Who Collects Vacuums?
Most collectors have a fascination with vacuum cleaners from a very early age. We enjoy the mechanical workings and appreciate the design of many vintage vacuum cleaners. If you have an interest in vacuum cleaners then this club is for you! Our club is made up of members of all ages from all walks of life.
The Annual Convention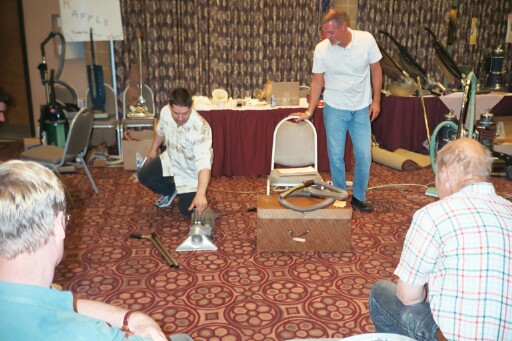 Our annual conventions are a blast every year! The conventions are usually the first or second week in June and last for about four days. The convention is the one time of the year when collectors can get together and discuss their vacuum cleaners. We have some very knowledgeable collectors in our club and each member has his or her own favorite brand of vacuum cleaner. Do you want to know the history on your Kirby or Hoover? or discuss the differences between past models? Then come join us at our convention. We also have various competitions such as most historic, most original and cleaning competitions. And for the creative people we even have a monster vac competition. Our conventions are held at hotels usually near major airports so those that can't drive can easily fly to the gatherings. You'll probably want to drive if you can so you can bring home some new vacuum treasures or bring some to sell or trade with other members. We have a sale area and even a free pile of vacuums and parts. You just might find that missing attachment or part to make your vintage vacuum run again or more complete. Also, we usually have technical sessions where members can learn how to repair their vacuums. Once you come to a convention, you won't want to miss one again!
Club History
The Vacuum Cleaner Collectors Club officially began on January 2, 1983 with John Lucia and Alex Taber as it's co-founding members. The first meeting was held at the Hoover Historical Center in North Canton Ohio. After the first meeting was held at the Hoover Historical Center the club grew to about 10 members. Today the club has around one hundred members. If you have an interest in vintage and modern vacuums cleaners come join us at our conventions!